| Item ID | Starting Bid | Bids | Current Bid |
| --- | --- | --- | --- |
| 79130 | $50.00 | 0 | $0.00 |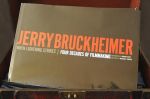 Coffeetable photo book "Jerry Bruckheimer: When Lightning Strikes – Four Decades of Filmmaking" by Michael Singer. Signed by Jerry Bruckheimer.
From amazon.com: Jerry Bruckheimer: When Lightning Strikes-Four Decades of Filmmaking commemorates the uber-producer's entire body of work, [including Pirates of the Caribbean]. The stories behind his films and television shows are revealed through insightful text written by Michael Singer, who has worked beside the producer in deserts, on tropical islands, and at every conceivable filming location in between. The images that accompany the text tell their own tales of directors, actors, and writers coming together with Bruckheimer to create films, characters, and screenplays that have become iconic, beloved, and oft-quoted. With a foreword by Johnny Depp, an exclusive interview with Bruckheimer's wife, Linda, and an introduction by Bruckheimer himself, this comprehensive and stunning volume is an actualization of the impact Bruckheimer has had on the spheres of film, television, and pop culture. It is clear that the inspiring lightning bolt of his company logo has struck a chord time and again, and it is sure to continue doing so well into the future.
Click here to see more pictures of this item.
NOTE that the winning bid on this package will be included in the 2016 PirateHouse "Best Pirate" contest. The pirate whose loot gets the highest winning bid will be showcased in the PirateHouse display on Halloween.
***PLEASE NOTE*** The cost of shipping is not included for this item. If you are the winning bid please contact the administrator to arrange shipping prior to paying. Approximate standard shipping cost within Canada is $20CAD. If local to the Greater Vancouver area we can make arrangements for pickup/dropoff at no cost.